Private Cooking Lesson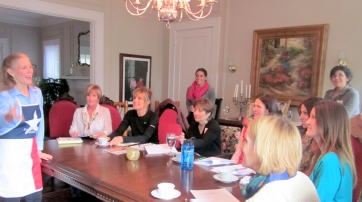 Amazing, inspirational cooking lessons with a chef who has studied at Le Cordon Bleu in London, learned Mediterranean Cooking from the Australaisian College of Health and Science in Syros, Greece, Health Supportive Cooking at the Natural Gourmet Institute for Food and Health in NYC, Studied raw food with the Tree of Life and Alissa Cohen (all level certification), Healthful cooking in San Miguel, Mexico, as well as writing 5 cookbooks on food and health. Nancy will spend 4  information packed hours working personally with you in the Dallas, Texas area, that you can schedule today.
You will learn:
What foods boost your immune system!
Learn how to lose weight in a healthy and delicious way.
  What to eat well if you have a health challenge like cancer, diabetes, heart disease, IBS, gluten sensitive, …
You can pick out exactly what you would like to focus on in those four hours.
Food is included, as well as a delicious tasting of the food as you learn.
The only cooking lessons that can save you money in health care cost!
Notes: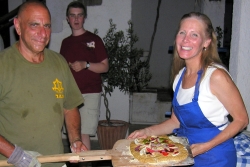 1. Group lessons are also available. Contact Nancy's team to discuss details and prices. It is always fun to learn with friends or family, who you want supporting your healthy way of life! I share with you, all of the nutritional reasons behind the ingredients that I use.
What people say about Nancy's cooking lessons:
Anna Armstrong

Nancy taught me so much in her class. I have multiple sclerosis and have wanted to eat healthier, but I felt it was too hard to change my diet. After her class, I am very motivated to start the change. The food she made was easy to make and very delicious. Nancy's class was very fun, she makes you feel at home and she is very personable. She made us laugh with her stories. She is very encouraging. She would tell us about the food she is using, the nutrients and the vitamins. She showed us just how easy it is to prepare the food, and also told us why it is important to eat this way.

 Susan Williams

Nancy Addison has influenced me in more than I can even begin to express about how I now see eating for health and happiness. I have seen her cook in such ways that I had not witnessed before in my life and now, because of her great influence, I cook and eat so much more differently and am greatly benefiting from these acknowledgements as we speak. Most of us have been taught wrong and she has an innate ability that comes from truth and beauty of life. I know so many people, and she is and has been the only one that I have met with such caring and knowledge in her field. I will always highly recommend her gifts and talents to whomever I meet and wants health and interesting eating in their lives.