If You're Looking for Someone Who's Funny with Something Useful to Say,
Then You Need Nancy!
Inspirational Keynotes, Breakout Sessions & Motivational Corporate Workshops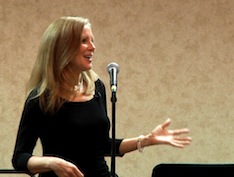 Audiences are invigorated by Nancy's inspirational approach to eating healthy as they gain a real understanding that what we eat is, truly, who we are.
Nancy's clients have reversed medical conditions, lost weight, and learned how to eat energizing, healthy, fresh food.
Nancy is straight-forward, casual and extremely approachable.  Her presentations put everyone at ease as she gives easy to implement healthy suggestions that can drastically impact their health. Many of those that have heard her speak and followed her advice will tell you they have more energy and are motivated improve they way they eat.
Nancy's Speaking – FAQ
Click here to visit Nancy's speaking FAQ page.
Speaking Topics
Raising Healthy Children – Nancy's Newest Keynote
Based on her #1 Best Selling, Award Winning Book by the same name, this is valuable information for Parents, Care Givers and Health Professionals!
Parenting is very rewarding, but it can also be very challenging if you are dealing with allergies, inner ear infections, and weight control for your children. With Nancy's heartfelt stories and easy-to-understand information, Nancy will guide you, and provide the tools necessary, to help you raise a healthy, happy child.
Having raised two children who are now grown, Nancy knows firsthand what it takes to create real and lasting health for your child. You will learn how to prepare healthy meals and snacks that will not only nourish their body, but give them the vitamins and minerals their bodies need to grow and thrive, and be fun and delicious as well!
The Healing Diet – Getting Diabetes and Weight Gain Under Control!
When you know what to do, diabetes and other diseases can be brought under control naturally, with some easy lifestyle and diet shifts.
Nancy Addison's easy style guides you through some basic steps that can help your body on the road to health and well-being.
Nancy's clients have lost weight, gotten healthy, and even had their doctors take them off medication.
If you struggle with your weight and constantly seem to be on a diet, Nancy will show you how to lose weight and keep it off, as well as have more energy and good health, by simply adjusting your lifestyle and eating habits with her easy, inexpensive strategy!
Simple Steps That Make Enormous Improvements In Your Health
When you give your body the right tools, it can do miraculous things!  Nancy will guide in fun and captivating ways in which you will discover simple and easy-to- implement ways to shift your life into a healthy way of living. She can show you how to have radiant health from the inside out.
Reverse Aging – Live a Longer, Healthier, & Rejuvenated Life!
Nancy will guide you toward an optimal diet that will supply the basic needs of your body and fortify your body's defenses and immune system.  She will help you learn how to improve your health, increase your strength and vitality, have greater longevity, and prevent diseases associated with aging.  These include heart disease, age-related muscle loss and fat gain, memory loss, dementia, Alzheimer's, arthritis, and the physical effects of aging.
Her message to audiences is simple: "We can't control getting older, but if we learn how to take care of our bodies with proper nutrition and exercise, they will take care of us with good health and vitality".
Health, Fitness, Wellness, and Aging Gracefully
Nancy Addison is the inspirational host of the popular "I Heart Radio" show.  She is also the best-selling author of "Raising Healthy Children," "How To Be A Healthy Vegetarian," "Lose Weight, Get Healthy, And Never Have To Be On A Diet Again", and the co-author of "Alive and Cooking, An Easy Guide To Health For You And Your Parents." A nationally recognized expert on nutrition, health, and positive aging, she also writes a column for Celebration Magazine and the Park Cities News. She is a frequent guest on national and local radio and television shows.
Nancy's focus is on an optimal diet that will supply the basic needs of the body and fortify the body's defenses, thereby improving health, increasing vitality, delivering greater longevity and preventing diseases associated with aging.
Her message to audiences is simple:  "We can't control getting older, but if we learn how to take care of our bodies with proper nutrition and exercise, they will take care of us with great health and vitality".
What Nancy's Audiences Say About Her
"The cutting edge health and nutrition information was incredibly relative to what my group needed to learn for improving their health. My audience related to her experiences, struggles and lessons. She combines a down-to-earth attitude with a colorful artistic streak. She was incredibly inspirational! I am looking forward to having her speak for our group again."
Tonya Prince- National Association of Professional Women
"Nancy, gave a presentation for my group, she was very professional, informative and her passion and her knowledge was incredible. There were many people that have changed their lifestyles for a more healthier way thanks to Nancy. We bought her books for all of our resort managers. We want our resort's restaurants to implement the healthful cooking techniques, recipes and nutritional information that she teaches. I recommend her to any group or organization that is looking for a motivational, dynamic and meaningful speaker."
Jimmy Gomes- Vice President, Forever Resorts
"Nancy offers an authoritative, well-researched and inspirational presentation. I've had Nancy do regular presentations for each one of my Parker University Classes of Chiropractic medical students for the last 5 years. Her books are great resources for medical professionals as well as the lay person and I know many of my students use them as nutritional resources in their offices. I highly recommend her as a informative and inspirational speaker."
Michael W. Hall, DC, FIACN, Professor of Neurology in the Clinical Sciences Department at Parker University. He is an international speaker on the management and prevention of neurological disorders. He is a Fellow of the International Academy of Chiropractic Neurology and a Diplomat of the American Board of Chiropractic Neurology.
"Nancy Addison presented a cooking demo/speech at a collaborative program I did with the Cancer Support Community and the Lymphoma Research Foundation. Nancy was fabulous!!! I look forward to working with her again!"
Jennifer Torres, Lymphoma Research Foundation
Need an entertaining speaker with impactful content? Contact Nancy Addison at
214-202-9243 to find out how she can help make your event an even bigger success!
Nancy is a member of the National Speakers Association and Global Speakers Federation. Nancy is available for live keynote presentations, workshops, educational events; as well as recorded radio and television. Nancy's presentations can be custom tailored to your audience.
To discuss having Nancy speak and secure an available date on her calendar, please reach her via phone at 214-202-9243.